The McAfee Circle
Imagine. Discover. Create.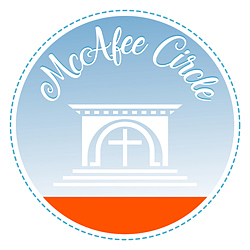 Have you been looking for a space where you can find companionship, mentoring, and development as a Black woman minister? If so, you are encouraged to check out the McAfee Circle. The McAfee Circle began in the spring of 2023 and it is designed to provide education on Black Womanist preaching and leadership development with in a black church context. This program is developed in partnership with with Dr. Kelly Farrow, the primary educator and the developer of the Circle of Sacred Fire.
If you are interested in this program, contact Nikki Hardeman at hardeman_ln@mercer.edu. This program is available to black women students in all degree programs.
---
What circle members say about the McAfee Circle:
"The McAfee Circle has provided a safe space for me to be free. God has blessed me with a community of women who are rooting for all that God is doing in my life, and I am rooting for all that God is doing in their life. In a world that thrives off of competition, it is life-giving to know I do not have to compete here; my community just wants me to be here." – Jamila Smith, 3rd year student
Two words that best describe the McAfee Circle are free and safe. I feel free enough to be my most authentic self and these ladies have created a safe space for me to lay my cape down. – Yamileh Barnett, M.Div, '13, current D.Min. Student
---