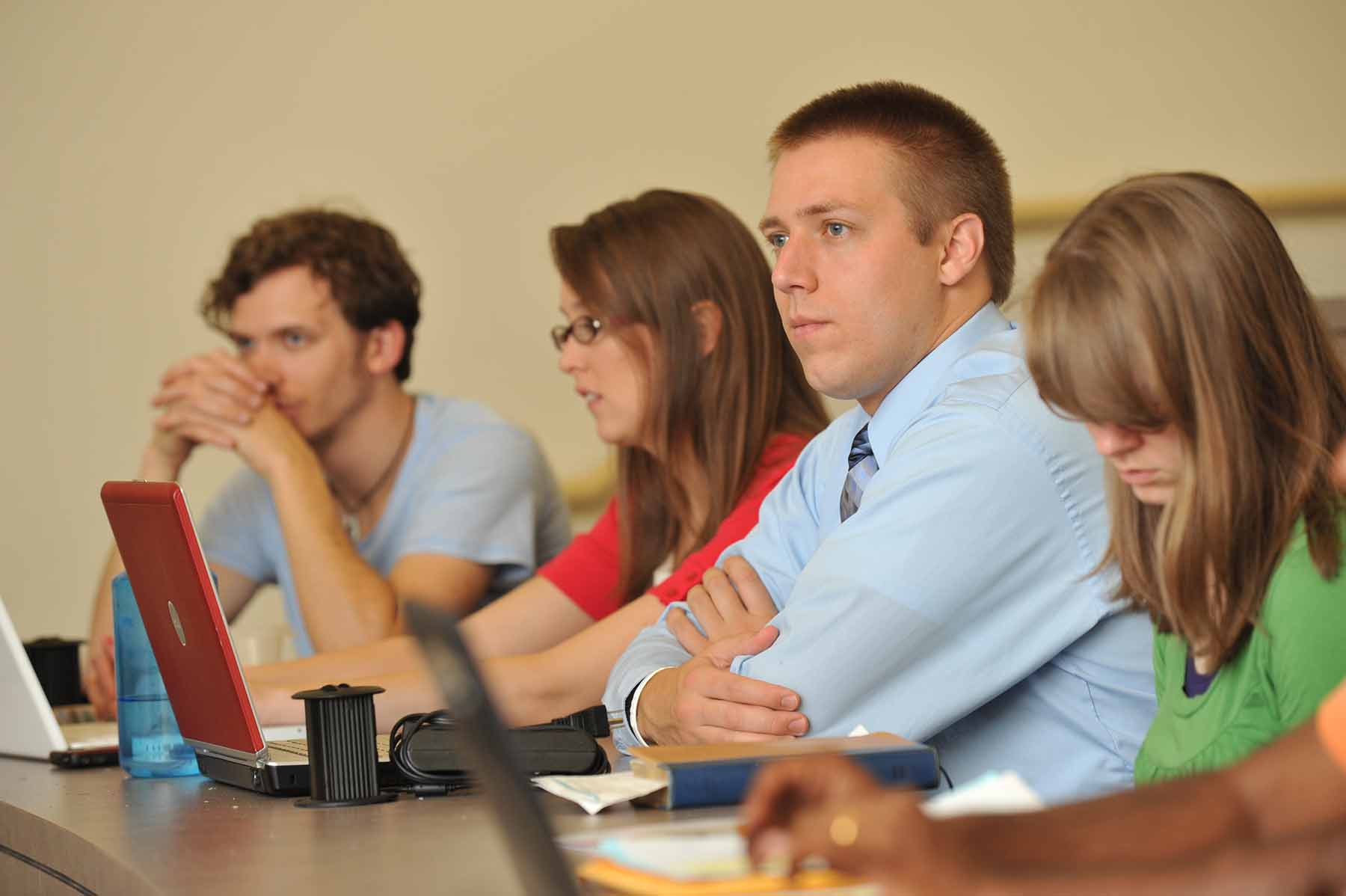 The Master of Theological Studies (M.T.S.) is a 48-hour two-year academically rigorous degree program designed to prepare students for advanced and specialized work in religion. Because of its academic nature, many students who pursue an M.T.S. go on to further graduate studies in numerous fields related to theology or serve in the non-profit sector, higher education, counseling, or various communities of faith. The ideal candidate for the M.T.S. degree is intellectually curious, academically focused, and highly motivated. A background in theology or religion is not required.
Apply Now
Deadlines
Requirements
Combined Degrees
McAfee graduates have gone on to study at universities throughout the United States and the United Kingdom, including Princeton, Duke, University of Chicago, Marquette, Baylor, Graduate Theological Union, St. Louis University, Emory, Brite Divinity, Iliff School of Theology, Fuller, Union Theological Seminary, University of Sheffield, and University of Edinburgh.
In partnership with McAfee's world-class faculty and the support of Mercer University's top-tier research resources, the M.T.S. degree allows students to undertake substantial work in one of four concentrations: Ethics, Biblical Studies, History-Theology, and Practical Theology. McAfee offers the only accredited M.T.S. degree in the state of Georgia with specific concentrations in Ethics and Practical Theology.
Within their concentrations, students will be assigned a thesis advisor in their first semester and work closely together to craft their course of study, thesis proposal, and eventual thesis project. The program's small cohort size emphasizes individualized mentorship and professional partnership between M.T.S. students and their faculty advisors within the larger McAfee, Mercer, and theological community.
M.T.S. concentrations allow students to organize their research, professional growth, and interests within one of four broad fields, which provide the structure to develop academic depth while also allowing for the intellectual flexibility needed as students pursue their research interests.
Biblical Studies
The Biblical Studies concentration focuses on Old Testament or New Testament scholarship and the development of Biblical languages. Offerings are available in Greek, Hebrew, Aramaic, Syriac, and Ugaritic.
Historical – Theological
The Historical – Theological concentration focuses on the development of ideas, methodology, and events within the religious and historical fields.
Ethics
The Ethics concentration, working in close partnership with Mercer's Center for Religion in Public Life, focuses on the numerous intersections between religious life and our institutions, communities, politics, and ideas.
Practical Theology
The Practical Theology concentration focuses on the theoretical, historical, and philosophical foundations for the practices and traditions of religious communities: spiritual care, interreligious dialogue, and emotional intelligence.
Combined Degree Options
An advantage of being one of Mercer University's 12 colleges and schools is that we have opportunities for highly qualified students to obtain two degrees in a shortened time through a combined degree program. Combined degrees at McAfee enhance skills and broaden professional opportunities by integrating a theological education with the resources of a professional degree. This is a great asset to the student who has a multiplicity of passions as well as the student who anticipates pursuing bi-vocational ministry opportunities.