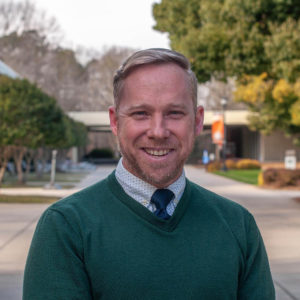 Nathan Cost
Director of Admissions
Office: (678) 547-6451
Email: cost_na@mercer.edu
M.T.S. '17, Candler School of Theology, Emory University
B.A., History and Education, Lipscomb University
Nathan joined the team in 2017 after finishing his theological education at Candler School of Theology, where he also worked in the Office of Admissions and Financial Aid for three years.  In undergrad, Nathan double majored in history and education and taught for six years before going back to school.  As a student and teacher, he's traveled extensively and benefited greatly from the hospitality of neighbors and strangers around the world.  For Nathan, admissions is the perfect opportunity to combine both of his passions for hospitality and education that he's developed throughout his life.  Outside of admissions, Nathan loves playing basketball, searching for the best tacos on Buford Highway, and hanging out with his dog, Haystack.  He's the very proud uncle of seven nieces and nephews.
Megan Currie
Associate Director of Admissions
Office: (678) 547-6052
Email: currie_ma@mercer.edu
M.Div., McAfee School of Theology, Mercer University
B.A., Religion, Mars Hill University
Megan's relationship with Mercer and McAfee began as a Master of Divinity student and graduate assistant in the Office of Admissions in 2016. Prior to earning her Master of Divinity at McAfee, Megan received her BA in Religion from Mars Hill University in Western North Carolina, where she first began to feel her call to ministry. Upon graduation, Megan went on to work as an Admissions Counselor for adult undergraduate students at Mercer University's College of Professional Advancement for about a year. Fueled from both professional and personal experience, Megan is passionate about ensuring every student feels supported as they pursue theological education and explore their callings. Outside of admissions, she continues to serve bi-vocationally as the Minister of Virtual Connection at Joy Metropolitan Community Church in Orlando, FL. She loves the Blue Ridge Mountains, will always say yes to a chai tea latte, and is a proud dog mom to her pup, Ernie.
Marie Mathieu
Enrollment Associate
Office: (678) 547-6052
Email: mathieu_mc@mercer.edu
Marie is the Enrollment Associate for McAfee. She joined Mercer University in 2017 with extensive administrative and admissions experience. She believes there is a call to ministry in every job, and particularly within an educational environment. Love, commitment, and dedication are very much a part of her approach in serving God and others. She is grateful to be part of the Bear family as an employee, but also as a student pursuing a degree in Health Informatics.
Born and raised in Port-au-Prince, Haiti, Marie is the aunt of ten lovely nephews and nieces and the godmother of two beautiful girls. She enjoys reading the Bible, listening to music, exploring nature, exploring the Atlanta farmers markets, cooking, eating (spicy food), traveling, dancing, swimming, and Zumba.