Dr. Denise McLain Massey
Professor of Pastoral Care and Counseling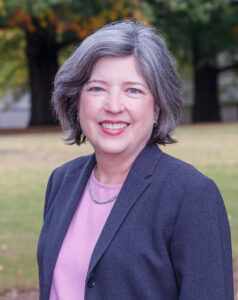 Dr. Denise McLain Massey is professor of pastoral care and counseling. She received an M.Div. in pastoral care, a Th.M. in pastoral care and a Ph.D. in psychology of religion and pastoral care from The Southern Baptist Theological Seminary in Louisville, Kentucky. Prior to coming to McAfee, Dr. Massey was director of pastoral care and clinical pastoral education at Kindred Hospital in Louisville. She led the hospital to be accredited as a teaching site with the Association of Clinical Pastoral Education. She also provided pastoral counseling with the Pastoral Care and Counseling Center of Louisville. At McAfee, Dr. Massey advises students who are interested in chaplaincy and pastoral counseling, in addition to teaching courses in Spiritual Care, Emotional Intelligence for Ministry and Leadership, Dreams as a Resource for Spiritual Care, Spiritual Care with Addicted Persons, Spiritual Care through Coaching, and Spiritual Formation.
Dr. Massey is a certified supervisor with the Association of Clinical Pastoral Education. She is also a life coach and is a member of the International Coaching Federation. She has lectured extensively in organizations affiliated with the Association for Clinical Pastoral Education. She has published articles in religious journals and books, and she is the author of CARING: Six Steps to Effective Pastoral Conversations.
Dr. Massey is a member of the Society for Pastoral Theology and Spiritual Directors International. Some of Dr. Massey's hobbies and interests include Louisiana-style cooking and reading for fun. She enjoys finding spiritual significance in Star Trek and Harry Potter. She is married and the mother of two young adult men.
Education
Ph.D., The Southern Baptist Theological Seminary, 1991
Th.M., The Southern Baptist Theological Seminary, 1987
M.Div., The Southern Baptist Theological Seminary, 1984
B.A., Louisiana College, 1980
Contact Dr. Denise McClain Massey
---