Nikki Carroll Hardeman
Director of Outreach and Alumni Relations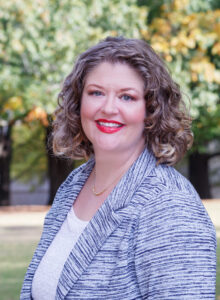 Rev. Nikki Carroll Hardeman is the director of outreach and alumni relations. She received a Master of Divinity from McAfee School of Theology in 2005 and a Bachelor of Arts from Mercer University in 2002. Having received both degrees from Mercer, Hardeman is proud to be a Double Bear.
Following her education, Hardeman served local churches through youth, young adult, and homebound ministry roles. She also served as the associate coordinator for the congregational life at the Cooperative Baptist Fellowship of Georgia.
As her family grew, Hardeman chose to stay home with her children and pursue her vocational ministry through retreat-leading, supply-preaching, adjunct teaching, and writing and producing a small-group Bible study curriculum called FaithElement. While still doing these things, Hardeman also loves her work with McAfee alumni and partner churches and organizations.
Education
M.Div., McAfee School of Theology, Mercer University, 2005
B.A., Mercer University, 2002
Contact Nikki Carroll Hardeman
---
(678) 547-6357
hardeman_ln@mercer.edu
Schedule a meeting with Nikki