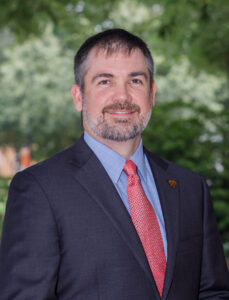 Rev. Matt DuVall is the director of development for Mercer's School of Theology. He received a Master of Divinity from the McAfee School of Theology in 2004 and a Bachelor of Arts from Mercer University in 2001. Matt is a proud Double Bear.
Matt has served the local church through a variety of capacities including youth and missions and interim pastoral ministry. He has also pastored congregations in Georgia and Kentucky. As the director of development, Matt works to raise support for and connection with the School of Theology.
Matt is married to Caroline and they have two daughters. He loves travel and the outdoors, and knows his way around a kitchen. Always up for an adventure, Matt is glad to suggest a new spot to try for anything delicious, especially in the incredible neighborhoods of NE Atlanta.
Education
D. Min., McAfee School of Theology, Mercer University, (expected 2023)
M.Div., McAfee School of Theology, Mercer University, 2004
B.A., Mercer University, 2001
Contact Matthew DuVall
---