Rev. Paul D. Byrd
Program Director of the Rural Health Collaboration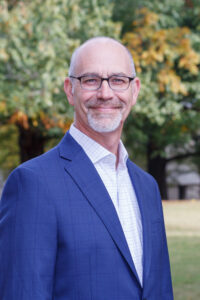 Paul Byrd joined Mercer in the Spring of 2022 to direct a collaborative program between McAfee School of Theology and the School of Medicine.  This program will support the physical, mental, and spiritual health of communities by coordinating the efforts of clergy and health care professionals as they work together to address rural health disparities in Georgia.
Before coming to Mercer, Paul spent almost 30 years as a chaplain in children's hospitals in Birmingham, Alabama and St. Petersburg, Florida. He serves on the faculty of the Pediatric Chaplains Institute and is the 2021 recipient of CBF's Carl Hart Award for Excellence in Chaplaincy and Pastoral Ministry. Paul is a proud Mercer Bear having graduated from Mercer University in 1989 with a degree in Music Education. He received his MDiv from the Southern Baptist Theological Seminary in 1993 and completed his chaplaincy residency at the Emory Center for Pastoral Care in 1994.  While in Alabama, Paul became aware of initiatives to improve rural health disparities through Alabama CBF's partnership with Sowing Seeds of Hope in Perry County and is excited to be working on this collaboration with Mercer.
Paul is married to Terri Byrd who serves as the Mobilization Pastor at Johns Creek Baptist Church in Alpharetta. He is the father of Turner and Evann, two remarkable young adults.  When not working, Paul enjoys hiking, exploring outdoors, home remodeling, cooking, and reading a good book.
Education
BCC Association of Professional Chaplains
M.Div., The Southern Baptist Theological Seminary
BME Mercer University
Contact Rev. Paul D. Byrd
---