Dr. Nicole Symmonds
Visiting Assistant Professor of Christian Ethics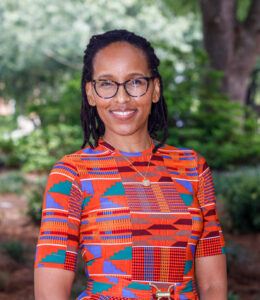 Dr. Nicole Symmonds is the Visiting Assistant Professor of Christian Ethics at McAfee. Dr. Symmonds earned her B.S. in Journalism from Florida A&M University (2002) and an M.Div. with a focus in theology and ethics at the Candler School of Theology (2013). She comes to McAfee from Emory University, where she earned a Ph.D. in Ethics & Society (2021). She teaches courses in the foundations of ethics and sexual ethics.
Dr. Symmonds's research interests include Christian anti-trafficking work, womanist responses to commercial sex work, sexual ethics in popular culture and society, and Christian social ethics and ethnography. Her research seeks to merge normative concerns within Christian ethics with a liberative commitment to women, gender, and sexuality, especially Black women's experience of embodied agency. Her current research, which is an expansion of her dissertation, explores the role of Evangelical Christian whiteness in anti-trafficking work performed in urban contexts. In this exploration, she identifies how faith-based anti-trafficking work conducted by Evangelicals is often done to buttress Christian religious values and commitments more than it secures freedom for women involved in the commercial sex trade. In claiming that this falls under the auspices of an Evangelical whiteness, Dr. Symmonds points to a phenomenon particular to white Christian spaces that embraces a limiting perception of purity and morality rooted in a history of racialization.
She has a co-authored article in the Journal of the Society of Christian Ethics and a forthcoming chapter publication with Routledge. Dr. Symmonds holds membership in the American Academy of Religion, the Society of Christian Ethics, and the Black Catholic Theological Symposium. Dr. Symmonds's teaching experience ranges from undergraduate religious studies courses at Emory University to graduate courses at the Candler School of Theology and Christian Education classes taught at several Atlanta area churches.
Education
Ph.D., Emory University, 2021
M.Div, Candler School of Theology, 2013
B. S., Florida A&M University, 2002
Contact Dr. Nicole Symmonds
---
678-547-6457
symmonds_ns@mercer.edu