Dr. Heidi A. Miller
Associate Professor of Spirituality and Christian Ministry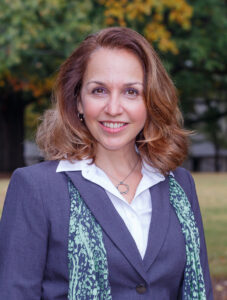 Dr. Heidi A. Miller is the director of the Doctor of Ministry program and is associate professor of Spirituality and Christian Ministry at McAfee School of Theology. Her teaching and scholarship focus on transformative aspects of leadership, spirituality, spiritual guidance, justice, and worship, on which she has spoken and taught throughout North American and across the globe.
Dr. Miller received her Ph.D. from The Catholic University of America in Washington, D.C., writing on ritually enacted narrative, and also studied at Eastern Mennonite Seminary and Goshen College. Prior to her joining the faculty at Mercer University in 2022, she served as a director of the Master of Practical Theology program and associate professor at Pfeiffer University; staff and adjunct faculty at Duke University; assistant professor of worship at Southern Methodist University, and assistant professor of spiritual formation and ministry at Eastern Mennonite University. She also co-founded and served as a managing director in non-profit organizations seeking to engage leaders and in collaborative and contextual mission. Dr. Miller has served as clergy in the Virginia Mennonite Conference and is a member of Spiritual Directors International, North American Academy of Liturgy, and Society for Christian Spirituality.
Prior to earning her Ph.D., Dr. Miller worked as a Medical Social Worker and a counselor in the school system. She has worked with senior business executives and health care providers regarding values-based leadership, and has been a consultant with congregations and organizations undergoing transition and trauma, particularly with marginalized communities.
For more than 20 years, she has been training sojourners throughout the U.S. and Canada, writing in worship, leadership, spiritual direction, and soul tending in one-on-one, small group, community, congregational, and organizational contexts. Most recently she was part of the collaborative team writing the worship resources within the Voices Together hymnal project for the Mennonite Church USA and Mennonite Church Canada. She is currently writing a book on the place of embodiment in spirituality and worship, and its role in forming, transforming, and empowering communities for the sake of the world.
Dr. Miller is married to Rev. Dr. Gary MacDonald and they have a blended family of four children, a daughter-in-law, and two grandchildren. She comes from a large, bi-national family, enjoys hiking on both mountains and beaches, pausing to explore with watercolors; jazz, and deep listening.
Education
Ph.D., The Catholic University of America
M.Div., Eastern Mennonite Seminary
B.A., Goshen College
Contact Dr. Heidi Miller
---
678-547-6476
miller_ha@mercer.edu