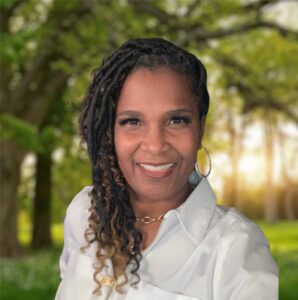 Dr. Ossie McKinney is an educator who believes that worship is a lifestyle, not an event or worship service. Dr. McKinney serves as the Minister of Music and Worship Arts Director at Providence Missionary Baptist Church in Atlanta, GA. She received her B.A. in Music from the University of Louisiana at Monroe (2002), her Master of Divinity degree from Mercer University (2015), and her Doctor of Worship Studies degree from Liberty University (2018). She is currently completing the requirements for a PhD in Christian Worship. Dr. McKinney is an ordained minister and a Navy and Army Guard veteran who served during Desert Storm.
Dr. McKinney has a long-standing passion for the marginalized and at-risk youth. She believes it takes a village to shape and drive youth to become individuals who meaningfully contribute to society.  Dr. McKinney has over forty years of experience volunteering in community-, school-, and church-based social service programs. Over the years, she has joined her calling of music and ministry to establish several community youth choirs to provide a place of therapeutic fun, discipline, and instruction for underserved communities.
Dr. McKinney loves to paint, sing, dance to Old School R & B music, and tour African- American historical sites in her free time. She is a proud member of Alpha Kappa Alpha Sorority, Incorporated, and loves all things pink and green.
Dr. McKinney is married to Rev. Charles McKinney, Jr., and they have five grown children. The McKinneys' greatest joy comes from being grandparents to their grandchildren Stormy, McKenzy, Winter, and Nazyr.
Education
Bachelor of Arts in Music, University of Louisiana at Monroe
Master of Divinity, Mercer University
Doctor of Worship Studies, Liberty University
Contact Ossie McKinney
---