Rev. Leah D. Jackson
Grant Project Coordinator for the Pathways for Tomorrow Initiative Lily Grant
The Reverend Leah D. Jackson, Esq. was born and raised in Detroit, Michigan. Leah has been called to minister the Word of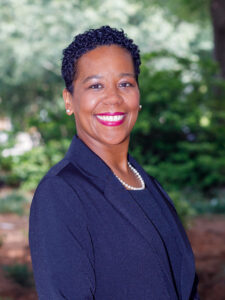 God as a preacher, pastor, educator, writer, and dancer.  She was ordained in the Christian Church (Disciples of Christ) by Ray of Hope Christian Church in Decatur, Georgia under the leadership of Rev. Dr. Cynthia L. Hale, where she served as the Minister of Christian Education for almost 8 years. She is also a licensed member of the State Bar of Georgia and specializes in Technology and Intellectual Property law.
Rev. Leah received a Bachelor of Arts in Public Policy with a focus in Child Advocacy from Spelman College in 2002; a Juris Doctor from Walter F. Georgia School of Law in 2005; and Master of Divinity from McAfee School of Theology in 2012.
She has served as a member of the Board of Visitors for McAfee School of Theology and as the editor for Just Women Magazine, a publication of the Christian Church. Currently, she is a member of the Commission on Ministry for the Georgia region of the denomination and is the Chaplain of the Atlanta chapter of the National Alumnae Association of Spelman College. She is the proud author of the devotionals, Daily Manna from the Psalms: Nuggets of Hope for the Hungry Christian and If Perish, I Perish, But I Won't!: Facing Your Fears Through the Study of the book of Esther.
Education
M.Div., McAfee School of Theology, Mercer University, 2012
J.D., School of Theology, Mercer University, 2005
B.A., Spelman College, 2002
Contact Leah D. Jackson
---