Advent 2020
God's Hope for the World: Stories of Advent

Angels Sing, and Have Fun Too!
Luke 2:1-20
In those days a decree went out from Emperor Augustus that all the world should be registered. This was the first registration and was taken while Quirinius was governor of Syria. All went to their own towns to be registered. Joseph also went from the town of Nazareth in Galilee to Judea, to the city of David called Bethlehem, because he was descended from the house and family of David. He went to be registered with Mary, to whom he was engaged and who was expecting a child. While they were there, the time came for her to deliver her child. And she gave birth to her firstborn son and wrapped him in bands of cloth, and laid him in a manger, because there was no place for them in the inn.
In that region there were shepherds living in the fields, keeping watch over their flock by night. Then an angel of the Lord stood before them, and the glory of the Lord shone around them, and they were terrified. But the angel said to them, 'Do not be afraid; for see—I am bringing you good news of great joy for all the people: to you is born this day in the city of David a Saviour, who is the Messiah, the Lord. This will be a sign for you: you will find a child wrapped in bands of cloth and lying in a manger.' And suddenly there was with the angel a multitude of the heavenly host, praising God and saying, 'Glory to God in the highest heaven, and on earth peace among those whom he favours! 
---
When the angels had left them and gone into heaven, the shepherds said to one another, 'Let us go now to Bethlehem and see this thing that has taken place, which the Lord has made known to us.' So they went with haste and found Mary and Joseph, and the child lying in the manger. When they saw this, they made known what had been told them about this child; and all who heard it were amazed at what the shepherds told them. But Mary treasured all these words and pondered them in her heart. The shepherds returned, glorifying and praising God for all they had heard and seen, as it had been told them.
In Robert Browning's "A Death in the Desert," the aged apostle John says, "What first were guessed as points, I now knew stars." Today, we know stars are immense, distant suns that emit tremendous amounts of energy and light, but no one thought that way in ancient Israel. God was "the Lord of hosts," and the stars were the hosts of heaven, angels who came to the rescue of Israel on several occasions: "The stars fought from heaven, from their courses they fought against Sisera" (Jdg 5:20; see also Josh 5:13–15; 2 Kgs 6:15–19; 2 Macc 15:22–23). They also sang: "Who laid its cornerstone when the morning stars sang together and all the heavenly beings shouted for joy?" (Job 38:6-7). Daniel taught that the righteous will rise to everlasting life, and "those who are wise shall shine like the brightness of the sky, and those who lead many to righteousness, like the stars forever and ever" (Dan 12:2-3). Jesus said that in the resurrection we will be like angels in heaven (Matt 22:30; see also 1 En. 104.2–4; 2 Bar. 51:10). Stars are angels. Think the great "cloud of witnesses" (Heb 12:1) and the star of Bethlehem (Matt 2:1–10). That night, every star in the Judean sky burst into song: "Glory to God in the highest heaven."
Back in the day, before cellphones, Jacque and I drove to Central Baptist Church in Newnan for the inauguration of the Arnall-Mann-Thomson Chair of Missions. On the way home, driving in a torrential rain on I-85, we passed a car on the shoulder and a moment later two women making their way into the wind behind a tattered umbrella. Without thinking, I said, "We've got to help those women," and whipped onto the shoulder. Jacque stuck her head out and invited them to get in, out of the rain. In a moment, they began pouring out their story.
They were from France, had driven to Callaway Gardens to see the butterflies, a belt in their rental car had broken. Jacque said she had a student from France that semester who was having two weddings, one in Paris with her family and one in Georgia at the groom's church. Our bedraggled guests exclaimed, "That's Nicki, our niece! We are here for her American wedding." We got off at the next exit so that they could call their family and stopped at one of the cluster of motels. When I told the clerk about their situation, she said, "Wonderful, I speak French. Let me get some coffee." When we said our goodbyes, our stranded strangers kept saying, "You are angels, angels!" We laughed, of course, because we knew better: the angels were just having a little fun that afternoon!
Christmas is a time for mystery and wonder, and for praise and hope. One day, the whole creation will sing in praise to God. Learn the chorus: "Gloria in excelsis Deo!"
---
R. Alan Culpepper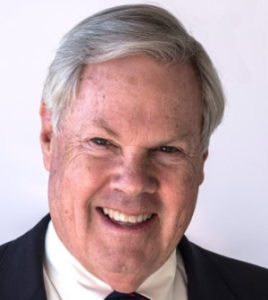 Dr. R. Alan Culpepper served as the dean of the McAfee School of Theology from its founding until 2015. In 2016, Dr. Culpepper received dean emeritus and professor emeritus status at McAfee. Outside of life at McAfee, Dr. Culpepper is the New Testament editor for the Smyth & Helwys Bible Commentary and for the Biblical Interpretation Series published by E.J. Brill. He also is on the editorial board from the Library of New Testament Studies. He has published nine books and several articles, curriculums, and book reviews, including Anatomy of the Fourth Gospel, John the Son of Zebedee, "The Gospel of Luke" in The New Interpreters' Bible, and Mark in the Smyth & Helwys Bible Commentary. In addition, Dr. Culpepper is a member of the Society for New Testament Studies, is a member of Smoke Rise Baptist Church, and enjoys sailing the 19-foot sailboat he built.